Leather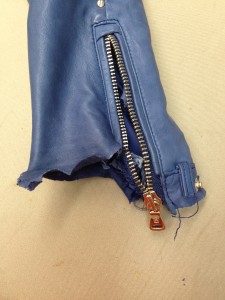 The tailors at Jaime's Alterations in San Rafael bring their extensive expertise in alterations and sewing to leather jackets and other leather clothing. When rejuvenating a leather item or perfecting the fit of a leather garment, Jaime's Alterations ensures that Marin clients will enjoy many years of use.
Special attention is always given to maintaining and, if necessary, expertly reproducing the finished detail of the item during its alteration. No fabric appeals to the Marin taste like a top quality fine leather or suede garment. Whether the garment is formal, sporty or casual, the sewing professionals at Jaime's Alterations of San Rafael can provide the needed alterations for your leather or suede.
Among the many alteration services Jaime's provides to its Marin clients are: rips and tears repaired, worn/torn linings replaced, and renewing the garment's original luster. In San Rafael, Jaime's is your best provider for rejuvenating your leather clothing.
We currently work on leather clothing and bags.